Vane Damper Installation instructions
Installing instructions of torque output direction.
As shown in the following pictures, damper A and B act as the cushion to the cover when it is rotating down. According to the installing direction of the dampers, the output torque of damper A is in counter-clockwise, and B is in clockwise. Helped by the combined action of A and B, the torque of the slow closing down is achieved. Choose the suitable damper in the right rotating direction, according to the actual installing manner of the cover. Ensure that the dampers are installed in correct direction.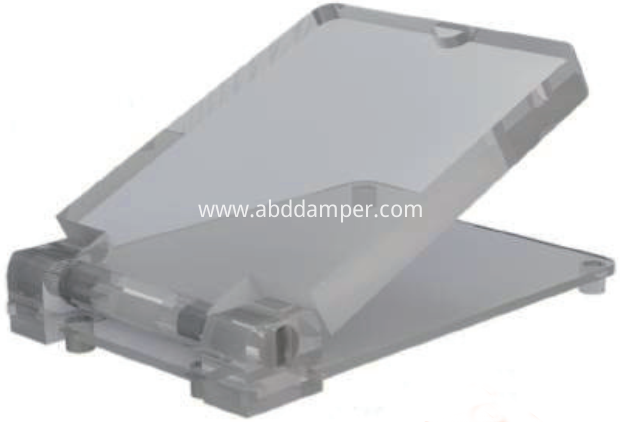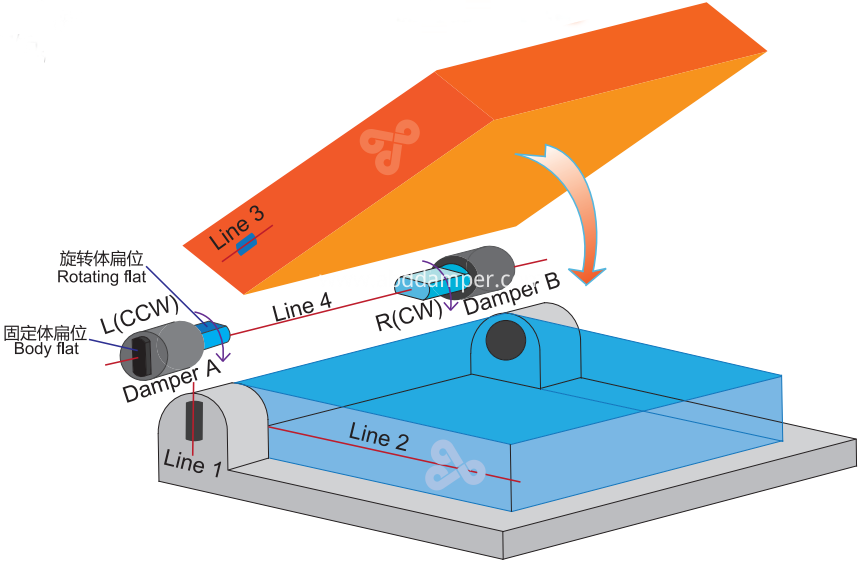 Installing instructions about the standard installing angle of damper.
All Vane Dampers have a limited rotation angle. Each series of products have indicated the base angle between rotating body and fixed body. So make sure the angle of rotation with the cover closed coincides with the angle of dampers closed in installation. The opening angle should be less than the maximum angle as safety factor defined.
Opening angle should be less than the maximum angle as safety factor defined. Please install stopper in the external body to prevent the damper from damaging.
As shown above, as the included angle between the flat part of spinning body and the flat part of fixed body is 90°, the included angle between the center line of flat hole of cover flip (line3) and the center line of installation hole (line1) is also 90°. Line3 coincides with Line2(the included angle is 0)
Make sure the center line of the damper A and B is coaxial and the center lines coincide with the center line of rotation of cover flip(Line4).
Shenzhen ABD Equipment Co., Ltd.
Business Type:Manufacturer
Product Range:Shock Absorbers , Other Electrical Instruments , Ironing & Washing Equipment Parts
Products/Service:Rotary Dampers , Linear Dampers , Barrel Dampers , Vane Dampers , Gear Dampers , Disk Dampers
Certificate:ISO9001 , REACH , RoHS
Company Address: 2FShenchuang Area, #17-2 Guanlan Rd., Longhua Shenzhen, China, Shenzhen, Guangdong, China
Next:
Welcome to visit our factory